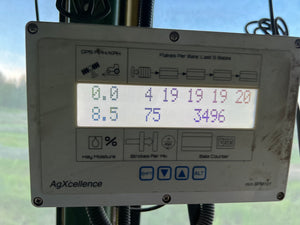 Bale Stroke Counter with Moisture Sensor
Introducing the AgXcellence Baler Stroke Counter and Moisture Meter – The Ultimate Efficiency Tool for Your Baling Operations!
Are you tired of the guesswork when it comes to monitoring your baler's performance? Say goodbye to manual counting and hello to precision with our cutting-edge Baler Stroke Counter.
Key Features:
Accurate Stroke Counting: Our Baler Stroke Counter provides real-time, precise tracking of every stroke made by your baler. Say goodbye to manual counting and guesswork.
Enhanced Productivity: Optimize your workflow by efficiently monitoring your baler's performance. Identify trends and patterns in bale production to maximize output and minimize downtime.
Easy Installation: Installing the Baler Stroke Counter is a breeze. It's designed to seamlessly integrate with most baler models, ensuring a hassle-free setup process.
User-Friendly Interface: The user-friendly interface and clear display make it easy to read and interpret stroke counts. Anyone on your team can use it with minimal training.
Benefits:
Maximized Efficiency: Eliminate the uncertainty of manual counting and make data-driven decisions to optimize your baler's performance.
Enhanced Product Quality: With precise stroke counting, you can ensure consistency in bale production, leading to higher-quality products.
Quality Assurance: Ensure the highest quality in your bales and crops by monitoring stroke counts and moisture levels.
Reduced Waste: Avoid over-drying or under-drying your crops by knowing their moisture levels, ultimately reducing waste and increasing profitability.
Invest in our Baler Stroke Counter today and experience a new level of efficiency and control in your agricultural operations. Make every bale count with precision and confidence!

 The kit contains:
 1 Monitor 
1 RAM Mount Arm
1 RAM Mount U-bolt Ball
1 Cab Harness
1 Baler Harness
1 Stroke Count Sensor Bracket
1 Bale Count Sensor Bracket
2 Proximity Sensors
1 Moisture Sensor